Dentures / False Teeth
Tooth loss and subsequent bone loss can have a negative impact on a patient's ability to smile, speak and eat. There are several options available to help restore smiles, a bite, and of course quality of life. Dentures remain one of the oldest and most popular solutions for patients who have lost teeth.
Dentures are one of the options available for replacing lost teeth. They are custom made artificial or false teeth that not only restore appearance but allow the patient to function (chew/ bite) where they have previously lost teeth.
What are Dentures made from?
Most dentures are made from a hard plastic material called acrylic which comes in a variety of colours to mimic each individuals tooth shade. There are also denture frameworks made from a metal alloy (Chrome Cobalt) which can offer greater strength and stability.
Book an Appointment
What Types of Dentures are available?
Tooth Replacement options to suit everyone
Acrylic Dentures
Acrylic Dentures: These can be either partial or complete dentures. A partial denture can replace one or more missing teeth or a complete denture can replace all of the patients' natural teeth. These are the most common type of dentures. Both the teeth and gum work are made from a durable resin and they can last up to 5 years.
Chrome Dentures
Chrome Dentures: These are dentures that replace lost teeth with matching acrylic teeth but have a polished metal framework supporting the teeth. They take up less room in the mouth than acrylic dentures but require some natural teeth to be clasped or anchored to. They can last up to 10 years.
Valplast Dentures
Valplast Dentures: Valplast is a flexible acrylic type material which replaces lost teeth and gum work. The "softer" nature of the material makes them more comfortable than the standard acrylic material and they can grip the gum and natural teeth better than any other materials. They do however require some natural teeth for anchorage.
Implant Retained Dentures
Implant Retained Dentures: This is the latest development in dentures. It involves placing a standard acrylic denture on top of mini implants which serve to anchor the denture by means of a clip-on attachment. The mini implants are placed (relatively pain free) in areas where there is sufficient bone density and are particularly beneficial in securing lower dentures. When placed in the upper jaw they enable the denture to be of minimal size, ie. Palate free. This type of denture would be recommended for someone with a bad gag reflex.
"Highly recommend all dentists at the surgery, as a family of 5 we all attend kids ranging from 6 to 16 and all love to go and see all the friendly staff. Thank you for all the amazing work over the years."
"I had a wisdom tooth removed on Saturday under sedation with Dr Chris Bell. All I can say is he is absolutely fantastic. I never felt one single thing. I came home and could eat straight away no pain, recovering very quickly. Delighted thank you."
"had my first appointment today i`m not a big fan of dentists due to bad experiences in the past. the staff were all really friendly and put me at ease the moment i walked through the door. actually looking forward to my next appointment that`s something i never thought i`d say."
How much do Dentures cost?
Prices vary depending on the type material used to make the denture and the number of teeth to be replaced. Please discuss this with your dentist during your assessment. At Colm Smith Dental we provide our patients with the knowledge and expertise needed to get the best results.
Our pricing is competitive, and our dentists are highly skilled. Please see our price list below or call one of our practices in Cootehill and Monaghan to find out more.
PRSI & Medical Card
PRSI Scale & Polish for 15 euro
PRSI- Please present your PPS number and with your signed consent, Colm Smith Dental can check your eligibility. If you are eligible, your check-up will be free and a regular scale and polish with the dentist or hygienist will be €15.
Medical Card Cover
Medical Card- if you hold a medical card, with your consent Colm Smith Dental can check your eligibility prior to your appointment. If you are eligible, you are entitled to a free examination, 2 fillings and all extractions per calendar year. Other treatments are available on the Medical card; however prior approval is required from the HSE.
Treatments for Missing Teeth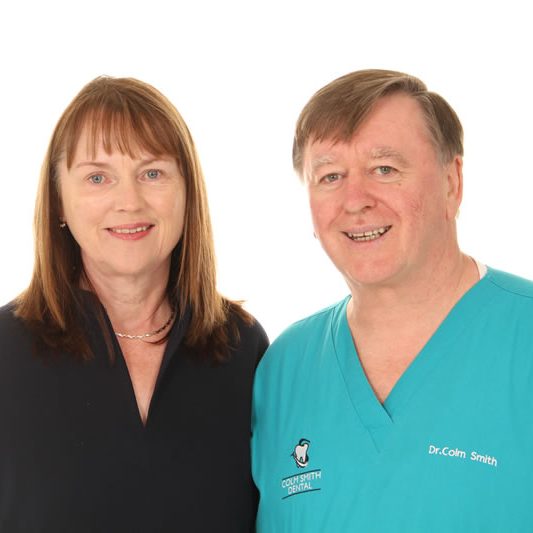 Your Dental Clinic
Find out why generations of families choose Colm Smith Dental
Every patient is treated like family, and that is what makes us different than other clinics. Each patient has a unique set of needs, therefore each patient needs to be treated differently.
You are more than a number for us here at Colm Smith Dental, and we promise to do our utmost to ensure you have a healthy smile and mouth, and you have a reason to smile leaving our clinic
Colm & Lucia Smith

If you are unsure what treatment you may need, please fill out the appointment form with as much information as possible and we will contact you as soon as we can.
We have Dental Clinics in Cootehill in Cavan and also in Monaghan centre.