Inlays and Onlays
What are Inlays and Onlays?
Dental inlays are used to restore the inside of the tooth and are made of a strong, natural-looking material, such as porcelain or tooth coloured composite resin.
Onlays are made of the same materials, but are used for larger restorations, extending over one or more sides of the tooth, and can be used similar to a crown or cap. They are used in instances when there is deficient tooth structure to support a filling but the tooth is still in a condition that does not require a crown. They are made in the laboratory by dental technicians, similar to veneers and crowns.
Book an Appointment
Am I suitable to have an inlay or an onlay?
Restore your teeth to their full strength
Inlays and onlays increase tooth strength and provide enduring protection for the tooth, holding it together whilst retaining a natural, aesthetically pleasing colour.
Unlike metal fillings, an onlay can often be used to repair only the damaged portion of the tooth, leaving much more of the original tooth structure intact. Speak to your dentist to see if you are suitable to have an inlay or onlay, as opposed to having a crown
What is involved with having an inlay or onlay?
Visit 1
Visit 1: At the first visit, your dental team will prepare the tooth. An impressions will then be taken and given to a dental technician, along with information about the shade to use and any other information they need.
A temporary filling will be made so that you can use the tooth while you wait for the inlay or onlay to be made. This inlay or onlay may be more noticeable but is only temporary.
Visit 2
Visit 2: At the second visit, your dentist will fit the permanent inlay or onlay. There will usually be about 1 to 2 weeks between appointments.
Our Reputation speaks for itself
We have generations of happy patients from all over Ireland, our aim is to provide affordable dental care which is of the best quality possible.
If you would like to read more of our reviews, you can do so on Google, Facebook, WhatClinic and many other locations. We pride ourselves on our excellent reputation and are looking forward to having you join our long list of happy patients.
100% RECOMMEND.....I have such bad experiences with dentists and was literally shaking with fear 😨 the receptionist reassured me everything would be fine . I was called for my appointment and I was made feel it was OK to be afraid and they looked after me very well and calmed my anxiety very quickly . The dentist himself was very patient and accepting of my worries and before I knew anything the job was done and I will certainly be back by far was the best treatment I have ever received. I honestly with my full heart recommend colm smith dental clinic in cootehill.
Denise Duignan


February 12, 2023
How much do inlays & onlays cost?
Prices vary depending on the type material used to make the inlay or onlay. Please discuss this with your dentist during your assessment.
At Colm Smith Dental we provide our patients with the knowledge and expertise needed to get the best results. Our pricing is competitive, and our dentists are highly skilled. Please see our price list below or call one of our practices in Cootehill and Monaghan to find out more.
PRSI & Medical Card
PRSI Scale & Polish for 15 euro
PRSI- Please present your PPS number and with your signed consent, Colm Smith Dental can check your eligibility. If you are eligible, your check-up will be free and a regular scale and polish with the dentist or hygienist will be €15.
Medical Card Cover
Medical Card- if you hold a medical card, with your consent Colm Smith Dental can check your eligibility prior to your appointment. If you are eligible, you are entitled to a free examination, 2 fillings and all extractions per calendar year. Other treatments are available on the Medical card; however prior approval is required from the HSE.
Cosmetic Dental Treatments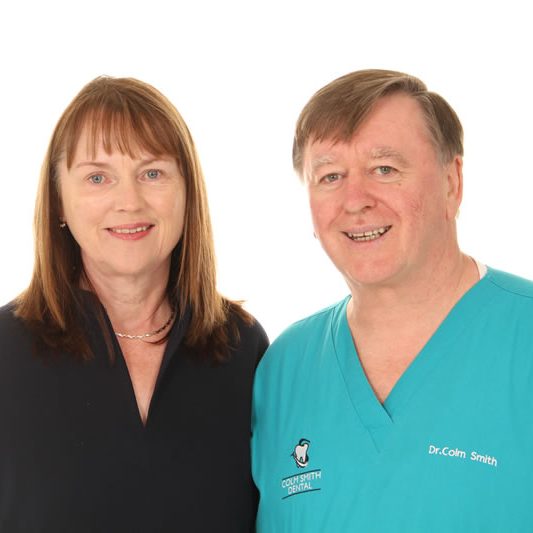 Your Dental Clinic
Find out why generations of families choose Colm Smith Dental
Every patient is treated like family, and that is what makes us different than other clinics. Each patient has a unique set of needs, therefore each patient needs to be treated differently.
You are more than a number for us here at Colm Smith Dental, and we promise to do our utmost to ensure you have a healthy smile and mouth, and you have a reason to smile leaving our clinic
Colm & Lucia Smith

"Highly recommend all dentists at the surgery, as a family of 5 we all attend kids ranging from 6 to 16 and all love to go and see all the friendly staff. Thank you for all the amazing work over the years."
"I had a wisdom tooth removed on Saturday under sedation with Dr Chris Bell. All I can say is he is absolutely fantastic. I never felt one single thing. I came home and could eat straight away no pain, recovering very quickly. Delighted thank you."
"had my first appointment today i`m not a big fan of dentists due to bad experiences in the past. the staff were all really friendly and put me at ease the moment i walked through the door. actually looking forward to my next appointment that`s something i never thought i`d say."
If you are unsure what treatment you may need, please fill out the appointment form with as much information as possible and we will contact you as soon as we can.
We have Dental Clinics in Cootehill in Cavan and also in Monaghan centre.