Functional appliances
Functional appliances - Growth Modification Brace
A functional appliance is a removable appliance brace that works on the upper AND lower teeth at the same time. It utilises the growth phase during puberty in children to correct jaw discrepancies. This is usually age 11-13 years in girls and 12-14 years in boys.
How much do I need to wear the brace?
The number of hours per day that you are expected to wear the brace will be explained to you, however in general you will be asked to wear your appliance for 22 out of 24 hours a day. For the treatment to work it is important you follow these instructions.
With the correct number of hours of wear you may find the improvement in the position of your teeth can be quite dramatic.
Book an Appointment
How else may Functional Appliances affect me?
Your speech will be different at first. Practice speaking with the retainer in place e.g., read out loud at home on your own. Your speech should return to normal within a few days.
You will also produce more saliva and may have to swallow more than normal for the first couple of days. This will settle down but it may be worth carrying a tissue or handkerchief with you.
Contact Us Today
Functional Appliances - Your Questions Answered
How often will I need an appointment?
You will be seen on a 4-8 weekly basis. During this time the brace will be adjusted and the position of your teeth and bite will be checked.
Will it be painful?
It is likely to be sore for about 3-5 days each time the brace is adjusted. If necessary, simple painkillers such as the ones you would normally take for a headache should help- please read instructions on the packet. If there is an obvious are of soreness due to the brace, ring for an appointment as soon as possible.
Don't stop wearing the brace or you will have a further 3-5 days of discomfort when you start wearing it again. If it is too uncomfortable, wear the brace for 2 hours before your next visit and show the orthodontist where it is rubbing.
Can I remove the brace?
The brace you are now wearing is removable but should only be removed for cleaning, unless you are otherwise advised. When it is not in your mouth it should be in its protective box. Do not click the brace in and out with your tongue as this will break the wires and loosen the brace leading to an increase in the length of time the treatment will take.
What about tooth brushing?
Remove your brace to brush your teeth. You should gently clean your brace with your toothbrush and water, taking care not to damage the wires.
It is important that you brush your teeth well for at least 3 minutes, 2-3 times a day.
Use fluoride toothpaste.
Bring your toothbrush to school or work for use after lunch.
Use floss or tepe brushes to clean in between your teeth daily.
Use alcohol-free fluoride mouthwash once daily, ideally anytime other than directly after brushing. This will help to maintain fluoride protection. Avoid eating or rinsing for 20 minutes after use.
Frequent sugary snacks and drinks plus poor oral hygiene will lead to permanent damage to your teeth.
How long will treatment take?
It usually takes 6-12 months but will vary according to how severe your case is. You may need to progress on to a fixed brace to finish your treatment. Failed and cancelled appointments or repeated breakages of the brace will increase the length of time treatment will take.
Do I still need to see my regular dentist?
Yes. It will be important you still have check-ups with your regular dentist throughout orthodontic treatment so that your teeth can be checked for decay.
What do I do if I play contact sports?
Remove your brace for playing contact sports and wear a mouthguard. This is also the case if you take part in activities requiring protective helmet e.g. horse riding. Remove your retainer for swimming as well. The retainer should be kept in a protective box when you are not wearing it. Do not store your brace in a tissue.
What if I play a musical instrument?
If you play a wind instrument, particularly the flute or a brass instrument, then you may be advised to remove the brace whilst playing. However, when the brace is not in your mouth it should be kept in a protective box to prevent breakage. You can discuss this further with your music teacher and orthodontist. Download an advice sheet on this subject from www.bos.org.uk
What do I do if my brace breaks or I lose it?
Ring up for an appointment as soon as is reasonably possible. Do not wait for your next appointment. You may be advised to attend sooner than your next routine appointment depending on what stage of treatment you are in as the breakage may slow your treatment or result in damage to your teeth and mouth. If you repeatedly break your brace, your treatment may be stopped early.
The above information has been taken from: The British Orthodontic Society website: www.bos.org.uk
Can I eat normally?
You may not be able to eat with your functional appliance in place. You will be advised about this. If you have been told to take it out for eating, make sure it is placed in a tough plastic box for safekeeping. For your orthodontic treatment to work well and in the shortest possible time it is important you take care of your teeth and brace.

To avoid damage to both, you should:

How much does Functional Appliance Treatment Cost
Prices vary depending on the treatment you need. Please discuss this with your dentist during your assessment. At Colm Smith Dental we provide our patients with the knowledge and expertise needed to get the best results.
Our pricing is competitive, and our dentists are highly skilled. Please see our price list below or call one of our practices in Cootehill and Monaghan to find out more.
Straight Teeth
More Success
Those with straight teeth were 45% more likely to get a job than those with crooked teeth when competing with someone with a similar skill set and experience
First Impressions
29% Notice Teeth First
Nearly one-third (29%) of Americans say the first aspect of someone's face they typically notice is his or her teeth, and 24% say this is also the facial aspect that they remember the most after meeting someone.
"Highly recommend all dentists at the surgery, as a family of 5 we all attend kids ranging from 6 to 16 and all love to go and see all the friendly staff. Thank you for all the amazing work over the years."
"I had a wisdom tooth removed on Saturday under sedation with Dr Chris Bell. All I can say is he is absolutely fantastic. I never felt one single thing. I came home and could eat straight away no pain, recovering very quickly. Delighted thank you."
"had my first appointment today i`m not a big fan of dentists due to bad experiences in the past. the staff were all really friendly and put me at ease the moment i walked through the door. actually looking forward to my next appointment that`s something i never thought i`d say."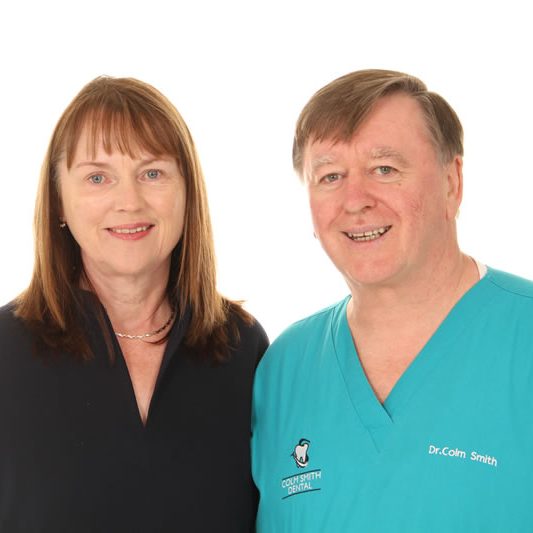 Your Dental Clinic
Find out why generations of families choose Colm Smith Dental
Every patient is treated like family, and that is what makes us different than other clinics. Each patient has a unique set of needs, therefore each patient needs to be treated differently.
You are more than a number for us here at Colm Smith Dental, and we promise to do our utmost to ensure you have a healthy smile and mouth, and you have a reason to smile leaving our clinic
Colm & Lucia Smith

If you are unsure what treatment you may need, please fill out the appointment form with as much information as possible and we will contact you as soon as we can.
We have Dental Clinics in Cootehill in Cavan and also in Monaghan centre.