Dr Paul McPartland
BA, B.DentSc, MFD(RCSI), MSc(Endo)
Dr Paul McPartland is accepting endodontic referrals at Colm Smith Dental.
Following his graduation from Trinity College, Paul worked in the UK before returning home to Ireland and working in private practice in Dublin. He then completed his membership examinations with RCSI before completing a 3 year postgraduate Masters degree in Endodontology in the UK.
Paul has been our in-house Endodontist at Colm Smith dental for many years and all endodontic assessments and treatments are completed using our state of the art microscope. Paul also works in a referral practice in Dublin.
Our endodontic/endodontic referral process has been to initially arrange a 30-minute endodontic consultation with the patient. At this appointment, a full treatment plan will be formulated and the patient will be informed of their treatment needs. If endodontic treatment is not suitable for a given case or patient, they will be informed of their alternative options and referred back to their referring dentist.
For any further questions, queries or additional information please contact 0495552683
Root Canal Treatment
What is a Root Canal?
Root canal treatment (endodontics) is a dental procedure used to treat infection at the centre of a tooth. Inflammation or infection can occur as a result of several things including deep decay, repeated dental procedures, faulty fillings or crowns, or trauma to the tooth.
Your dentist will search for signs, symptoms or abnormalities in the radiography prior to refer you to an endodontist. Signs of pulp damage include pain, prolonged sensitivity to heat or cold, discolouration of the tooth, and swelling and tenderness in the nearby gums. However, sometimes you may not experience any symptoms but still be in need of endodontic treatment and if left untreated, it can cause pain or lead to an abscess.
How root canal treatment is done
To treat the infection in the root canal, the bacteria need to be removed. This can be done by either:
removing the bacteria from the root canal system (root canal treatment)
removing the tooth (extraction)
Removing the tooth may not be recommended as it may be better to keep as many of your natural teeth if possible, this will be fully discussed at your consultation appointment
After the bacteria have been removed, the root canal is filled and the tooth sealed with a biocompatible material followed by a filling or crown. In most cases the inflamed tissue near the tooth will heal naturally, this can take days to months if there has been persistent inflammation around the tooth.
Before having root canal treatment, you'll be given a local anaesthetic. This means the procedure should be painless and no more unpleasant than having a filling. Sometimes a tooth may be very heavily inflamed, in which case some additional anaesthetic will be required to numb the tooth effectively.
Root canal treatment is usually successful. In about 9 out of 10 cases a tooth can survive for up to 10 years after root canal treatment. For cases that do not respond to root canal treatment, options such as apicoectomy(root end surgery) or extraction may have to be considered.
Recovering from root canal treatment
It's important to look after your teeth when recovering from root canal treatment. You should avoid biting on hard foods until your treatment is complete.
After your final treatment, your restored tooth should no longer be painful, although it may feel sensitive for a few days. You can take over-the-counter painkillers to relieve any discomfort. It will often be advised to have a crown made for the tooth that has been root canal treated, to ensure it is kept safe and strong for as long as possible.
"Highly recommend all dentists at the surgery, as a family of 5 we all attend kids ranging from 6 to 16 and all love to go and see all the friendly staff. Thank you for all the amazing work over the years."
"I had a wisdom tooth removed on Saturday under sedation with Dr Chris Bell. All I can say is he is absolutely fantastic. I never felt one single thing. I came home and could eat straight away no pain, recovering very quickly. Delighted thank you."
"had my first appointment today i`m not a big fan of dentists due to bad experiences in the past. the staff were all really friendly and put me at ease the moment i walked through the door. actually looking forward to my next appointment that`s something i never thought i`d say."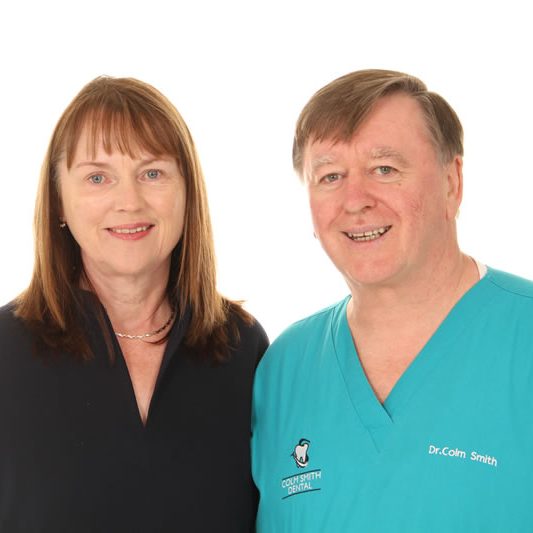 Your Dental Clinic
Find out why generations of families choose Colm Smith Dental
Every patient is treated like family, and that is what makes us different than other clinics. Each patient has a unique set of needs, therefore each patient needs to be treated differently.
You are more than a number for us here at Colm Smith Dental, and we promise to do our utmost to ensure you have a healthy smile and mouth, and you have a reason to smile leaving our clinic
Colm & Lucia Smith

If you are unsure what treatment you may need, please fill out the appointment form with as much information as possible and we will contact you as soon as we can.
We have Dental Clinics in Cootehill in Cavan and also in Monaghan centre.