Invisible Orthodontics
Invisible Braces / Invisalign
Invisalign is a clear plastic aligner system, which is an aesthetic alternative to fixed metal braces that are glued to your teeth.
Invisalign is easily removed for cleaning and eating.

The aligners must be worn for 22 hours per day.

Treatment can take as little as 3 months.
The success of treatment is patient-driven and depends on the patient wearing the aligners for 22 hours out of 24 hours per day.
Book an Appointment
What is involved with wearing Invisalign?
If you are eligible for invisalign, Dr. Ann will carry out a digital scan, photographs and x-rays of your teeth. These records, along with a prescription from Dr. Ann will be used to produce a customised digital plan called a 'ClinCheck', allowing you to visualise how your teeth will be straightened. Upon approval of your customised plan, Invisalign will ship all your aligners to the practice. You will be advised to change each aligner on a 1-2-week basis, attending the practice every 6-8 weeks to monitor your progress and collect your new aligners.

How many aligners will I need?
The total number of aligners will vary depending on the complexity of your bite and malalignment. There are several Invisalign packages available at Colm Smith Dental & Specialist Centre and it is best to discuss this with specialist orthodontist, Dr. Ann.

Contact Us Today
Invisalign Options
Invisalign provided by our Specialist Orthodontist, Dr. Ann smith, offers the patient 3 options:
Invisalign Express Package
This is the cheapest and shortest type of Invisalign. Invisalign Express is used for simple minor teeth straightening and treatment of minor orthodontic relapse (teeth returning to their original position after they've been straightened, normally due to not wearing your retainer).
This treatment can involve the upper and/or lower teeth and usually involves between 1-7 aligners, with one free refinement (additional aligners). Treatment can take as little as 3 months.
Invisalign Lite Package
Invisalign Lite is used to treat mild to moderate cases. Upper and/or lower teeth are treated, with approximately 8-14 aligners and 2 additional free refinements.
Invisalign Teen/Comprehensive Package
Invisalign Comprehensive is designed for the most complex of orthodontic cases. It can treat a full spectrum of adult and teen patients with moderate to severe crowding, open bites, crossbites, deep bites and spacing. It generally involves treating the upper and lower jaws. It is the most extensive of Invisalign treatments requiring a minimum of 15 aligners. On average treatment can take between 12-36 months.
Invisalign vs Invisalign Go
Be sure to check that your Invisalign provider is a Specialist Orthodontist.
Check the register here: Division of Orthodontics
Invisalign vs Invisalign Go
Invisalign have different 'products' for Specialist Orthodontists and General Dentists.
All Specialist Orthodontists use the Invisalign Comprehensive Portfolio, to fully straighten your teeth and correct your bite, whereas dentists mainly use a more limited product called Invisalign GO. However, both products are often called 'Invisalign'.
Invisalign GO is a limited treatment designed to give dentists the opportunity to offer mild to moderate orthodontic treatment for anterior alignment issues. Invisalign GO has more limitations on tooth movement and the number of teeth it can treat. As a result it is designed for fixing anterior aesthetic issues, rather than aesthetic and functional bite issues provided by the Comprehensive Portfolio for Specialist Orthodontists. In addition, Invisalign GO, provided by a dentist, may be more expensive for treatment of mild cases in comparison to treatment of mild cases by a Specialist Orthodontist using the Invisalign Comprehensive Portfolio.
Invisalign Comprehensive- Provided by Specialists
Invisalign GO- Provided by Dentists
Mild, Moderate and Comprehensive (Severe) cases
Mild & Moderate cases ONLY
Correction of aesthetic and functional bite
Aesthetic ONLY
Can treat all teeth
Anterior teeth ONLY
Unrestricted tooth movement
Limited tooth movement
3 different packages level depending on complexity
1 fixed package
Varying prices based on complexity

(Starting from €1500)

1 fixed price regardless of complexity (On average between €3000-€4,500)
Products to treat teenagers and children
Mandibular Advancement feature for correction of Class II malocclusion
Invisalign First for treatment with early mixed dentition (6-11 year olds)
What is the difference between a Specialist Orthodontist and a Dentist?
Specialist Orthodontists spend an additional 3 years training, on top of their dental degree to
accurately assess, diagnose and treat teeth alignment and bite corrections (which are important for
everyday functions such as chewing food and keeping airways fully open). A Specialist Orthodontist is someone who is registered with the Irish Dental Council's Specialist Register for Orthodontists. You can check if your Invisalign provider is a Specialist Orthodontist by clicking on the following link: Division of Orthodontics
Specialist Orthodontist

Dental Degree, Specialist Orthodontic Degree and on the Specialist register

Dentist

Dental Degree

Specialist in Facial growth, dental development and occlusion
Generalist in dental and oral health
Specialist in tooth and jaw alignment
Diagnoses and treats diseases affecting the gums and teeth
Only does orthodontics
Treats dental problems
Price differences?
Most local dentists offer Invisalign GO ranging from €3000 – €4,500. At Colm Smith Dental, your Invisalign will be provided by a Specialist Orthodontist and our prices range from €1500 – €3,900, from small minor relapse cases, to more complex cases.
Why choose Colm Smith Dental?
Treated by a Specialist Orthodontist
Highly skilled multidisciplinary orthodontic team
Highly competitive prices
Uses the latest in Digital Orthodontic technology for assessing, planning and diagnosing each patient.
State of the art technology
At Colm Smith Dental and Specialist centre we use state of the art technology and can create a 3D image of your teeth in just minutes using one of our digital scanners, by Invisalign iTero or 3shape Trios3.
Using the 3D scan of your teeth, our iTero and Trios Scanners can perform a smile simulation showing you what your new teeth may look like before you commit to treatment
Advantages of this technology
Quick

Hygienic

Good for gag reflex

Before and after simulation
Invisalign Teen
Invisalign Teen has been developed with teenagers, parents and leading orthodontists who understand
the active lifestyles and unique treatment needs of teenage patients.
The Invisalign Teen aligners are made with the same Invisalign technology used for Invisalign aligners, moving teeth gradually without the need for metal or wires.
But because teens (and their mouths) are constantly on the move, Invisalign have added a few special features:

To find out more about Invisalign for teenagers, please talk to your Invisalign Provider who'll be able to suggest the best treatment option for you.
Can Invisalign work for you?
Invisalign® treats a range of straightening issues, ranging from minor tooth movements to more complex cases. Whatever the issue, the result is a new, more even smile that you will want everyone to see.
Here are some of the straightening issues that can be treated with Invisalign.
Overcrowded teeth
Overcrowded teeth occur when there is a lack of room within your jaw for all of your teeth to fit normally.
Widely spaced teeth
Widely spaced teeth occur when you have extra space within your jaw.
Cross bites
Cross bites occur when the upper and lower jaws are both misaligned. It usually causes one or more upper teeth to bite on the inside of the lower teeth, and can happen on both the front and/or the sides of the mouth.
Deep bites
Deep bites occur when the upper teeth overlap significantly with the lower teeth.
Under bites
Under bites occur when the lower teeth protrude past the front teeth, usually caused by undergrowth of the upper jaw, overgrowth of the lower jaw, or both.
How much does Invisalign cost?
Prices vary depending on the treatment you need. Please discuss this with your dentist during your assessment. At Colm Smith Dental we provide our patients with the knowledge and expertise needed to get the best results.
Our pricing is competitive, and our dentists are highly skilled. Please see our price list below or call one of our practices in Cootehill and Monaghan to find out more.
"Highly recommend all dentists at the surgery, as a family of 5 we all attend kids ranging from 6 to 16 and all love to go and see all the friendly staff. Thank you for all the amazing work over the years."
"I had a wisdom tooth removed on Saturday under sedation with Dr Chris Bell. All I can say is he is absolutely fantastic. I never felt one single thing. I came home and could eat straight away no pain, recovering very quickly. Delighted thank you."
"had my first appointment today i`m not a big fan of dentists due to bad experiences in the past. the staff were all really friendly and put me at ease the moment i walked through the door. actually looking forward to my next appointment that`s something i never thought i`d say."
Straight Teeth
More Success
Those with straight teeth were 45% more likely to get a job than those with crooked teeth when competing with someone with a similar skill set and experience
First Impressions
29% Notice Teeth First
Nearly one-third (29%) of Americans say the first aspect of someone's face they typically notice is his or her teeth, and 24% say this is also the facial aspect that they remember the most after meeting someone.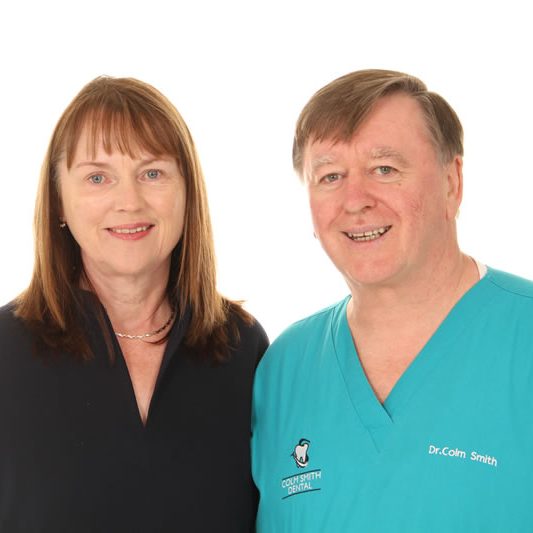 Your Dental Clinic
Find out why generations of families choose Colm Smith Dental
Every patient is treated like family, and that is what makes us different than other clinics. Each patient has a unique set of needs, therefore each patient needs to be treated differently.
You are more than a number for us here at Colm Smith Dental, and we promise to do our utmost to ensure you have a healthy smile and mouth, and you have a reason to smile leaving our clinic
Colm & Lucia Smith

If you are unsure what treatment you may need, please fill out the appointment form with as much information as possible and we will contact you as soon as we can.
We have Dental Clinics in Cootehill in Cavan and also in Monaghan centre.