Endodontic treatment & Root Canal Treatment
What is root canal treatment?
Root canal treatment (endodontic treatment) is a means of saving a tooth that may be damaged by fracture, infection or decay. The purpose is to restore the tooth and surrounding tissues to health, relieving both the dental pain and infection.
Without root canal treatment, the only other alternative is to have the infected tooth removed, and replace it with either an implant, a fixed bridge or a removable denture.
Book an Appointment
Do I need a Root Canal?
What symptoms may indicate that I need root canal treatment?
Patients who need root canal treatment present with a variety of symptoms and there is no definite list. Some patients experience severe dental pain and discomfort and others will have minor or no symptoms.
Some signs to be aware of however are:

Root Canal Treatment Explained
What should I do if I am having symptoms?
If you have a toothache or the symptoms mentioned above, it may be a sign that you need root canal treatment. Please contact us and we will arrange a consultation for you to see the dentist. We may need to take some x-rays so we can fully assess your condition and present you with a full range of treatment options. Once we have discussed your situation and you have decided upon the option that best meets your needs, we will then arrange your appointments. Often we will commence treatment on the same day, particularly if you have attended in pain.
How is a Root Canal Performed?
The dead nerve is removed from the inside of the tooth, which is then disinfected and filled. Despite common horror stories root canal treatment performed correctly is a painless procedure and ensures that the tooth is saved rather than extracted.
Root canal treatment is normally completed in 1 or 2 visits depending on the complexity of the case, or if you are having any symptoms. Root canal treatment on a back tooth is often followed by a crown to provide strength.
Root canal treatment can sometimes be carried out electively, for example if a post is required to restore the tooth, or if the root is to be kept to maintain the surrounding bone.
I am nervous about having root canal treatment, what should I do?
If you are nervous, or anxious in any way, please do feel free to speak to us about your concerns. We have a great deal of experience dealing with anxious patients. The procedure is normally carried out under local anaesthetic and a dental dam will also be used to provide a completely pain free and comfortable procedure.
What is the success rate of root canal treatment?
To increase the success rate and longevity of your root canal treatment, it is recommended that a crown/onlay is placed on the tooth following root canal treatment. Endodontic treatment has a very high success rate, with many root canal treated teeth lasting a lifetime after the procedure. In a very small number of cases, root canal treatment may not succeed in maintaining a patient's tooth, in which cases the tooth may need to extracted. However, all is not lost, as implants or bridges are options available to you.
"Highly recommend all dentists at the surgery, as a family of 5 we all attend kids ranging from 6 to 16 and all love to go and see all the friendly staff. Thank you for all the amazing work over the years."
"I had a wisdom tooth removed on Saturday under sedation with Dr Chris Bell. All I can say is he is absolutely fantastic. I never felt one single thing. I came home and could eat straight away no pain, recovering very quickly. Delighted thank you."
"had my first appointment today i`m not a big fan of dentists due to bad experiences in the past. the staff were all really friendly and put me at ease the moment i walked through the door. actually looking forward to my next appointment that`s something i never thought i`d say."
How much does a Root Canal Cost?
At Colm Smith Dental we provide our patients with the knowledge and expertise needed to get the best results. Our pricing is competitive, and our dentists are highly skilled. Please see our price list below or call one of our practices in Cootehill and Monaghan to find out more.
Root canal treatment is an extremely cost-effective way to treat teeth with a damaged pulp/nerve and may be less expensive than extraction and placement of a bridge or implant. All of this will be thoroughly discussed before any treatment has commenced.
General Dental Treatments
If you are in pain, and think you may require a root canal, please get in touch with us.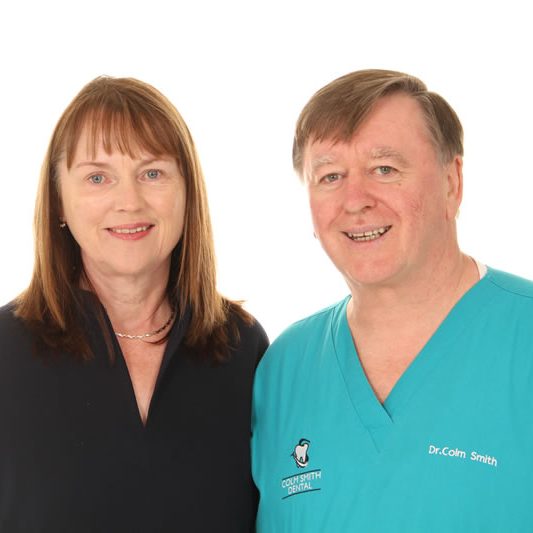 Your Dental Clinic
Find out why generations of families choose Colm Smith Dental
Every patient is treated like family, and that is what makes us different than other clinics. Each patient has a unique set of needs, therefore each patient needs to be treated differently.
You are more than a number for us here at Colm Smith Dental, and we promise to do our utmost to ensure you have a healthy smile and mouth, and you have a reason to smile leaving our clinic
Colm & Lucia Smith

If you are unsure what treatment you may need, please fill out the appointment form with as much information as possible and we will contact you as soon as we can.
We have Dental Clinics in Cootehill in Cavan and also in Monaghan centre.