Tooth Fillings
Fillings are a way to restore damaged, cracked, broken or decayed teeth back to their normal shape and function.
A filling involves removal of the decayed material and cleaning of the affected area. A lining material is generally then placed over the nerve of the tooth to protect it, and then a filling material is placed to restore the tooth.
Book an Appointment
Types of Fillings
Amalgam Fillings ('Silver')
Amalgam Fillings ('Silver')- These are resistant to wear and are generally less expensive. They are more suited to teeth in the back of the mouth.
Composite Fillings ('White')
These are matched to the colour of the tooth and are used in more visible areas. In some cases, these fillings may not be suitable for larger restorations in teeth in the back of the mouth as they may fracture or become worn.
Layered Composite Fillings
Layered Composite Fillings – These are a premium composite/white filling. The material is carefully placed in layers which mimic the layers (enamel and dentine) of natural tooth structure. We use this type of restoration where the highest aesthetic standard is required.
Glass Ionomer Fillings
Glass Ionomer Fillings- This material is used for smaller fillings. It may also be used as a short-term or temporary filling in a tooth.
Short-term/Temporary fillings
Short-term/Temporary fillings are generally considered those that will be in the tooth for a period of less than 6 months. There are a variety of reasons that a short-term filling may be done on a tooth. For example, if a tooth is painful and the decay is close to the nerve, a filling with a painkiller in it can sometimes be placed in the tooth and it is left in place for a few weeks to see if the pain settles. This type of filling is called a dressing. If after this period, the tooth is not painful or symptomatic, the dressing may be removed and a more long-term filling can be placed in the tooth.
Maintaining long lasting professional relationships with all our patients
The aim of a dental examination is to look for and detect any signs of disease or other problems, so that they can be treated as soon as possible to prevent any potential problems becoming more serious at a later stage.
White Fillings
clinically known as composites
White fillings (clinically known as composites) are an aesthetic option for repairing fractured or decayed teeth. White filling material can be closely matched to the existing shade of the teeth and therefore are particularly suited for front teeth or visible parts of the teeth.
Composite bonding is when composite (white filling) material is 'glued' or 'bonded' to the tooth surface in layers. This procedure generally requires little or no preparation of the tooth and therefore no anaesthetic. After the dentist prepares the tooth, composite is placed in layers, typically using a light specialised to harden each layer. When the process is finished, the dentist will shape the composite to fit the tooth. The dentist then polishes the composite to prevent staining and early wear.
Contact Us Today
How much do Dental Fillings Cost?
The cost of composite bonding depends on how many 'surfaces' the composite it bonded to, i.e. how big the filling is. Please discuss this with your dentist during your assessment.
At Colm Smith Dental we provide our patients with the knowledge and expertise needed to get the best results. Our pricing is competitive, and our dentists are highly skilled. Please see our price list below or call one of our practices in Cootehill and Monaghan to find out more.
PRSI & Medical Card
PRSI Scale & Polish for 15 euro
PRSI- Please present your PPS number and with your signed consent, Colm Smith Dental can check your eligibility. If you are eligible, your check-up will be free and a regular scale and polish with the dentist or hygienist will be €15.
Medical Card Cover
Medical Card- if you hold a medical card, with your consent Colm Smith Dental can check your eligibility prior to your appointment. If you are eligible, you are entitled to a free examination, 2 fillings and all extractions per calendar year. Other treatments are available on the Medical card; however prior approval is required from the HSE.
General Dental Treatments
"Highly recommend all dentists at the surgery, as a family of 5 we all attend kids ranging from 6 to 16 and all love to go and see all the friendly staff. Thank you for all the amazing work over the years."
"I had a wisdom tooth removed on Saturday under sedation with Dr Chris Bell. All I can say is he is absolutely fantastic. I never felt one single thing. I came home and could eat straight away no pain, recovering very quickly. Delighted thank you."
"had my first appointment today i`m not a big fan of dentists due to bad experiences in the past. the staff were all really friendly and put me at ease the moment i walked through the door. actually looking forward to my next appointment that`s something i never thought i`d say."
What can Composite Bonding be used for?
Composite bonding may be suitable to correct the following cases:
Our Reputation speaks for itself
We have generations of happy patients from all over Ireland, our aim is to provide affordable dental care which is of the best quality possible.
If you would like to read more of our reviews, you can do so on Google, Facebook, WhatClinic and many other locations. We pride ourselves on our excellent reputation and are looking forward to having you join our long list of happy patients.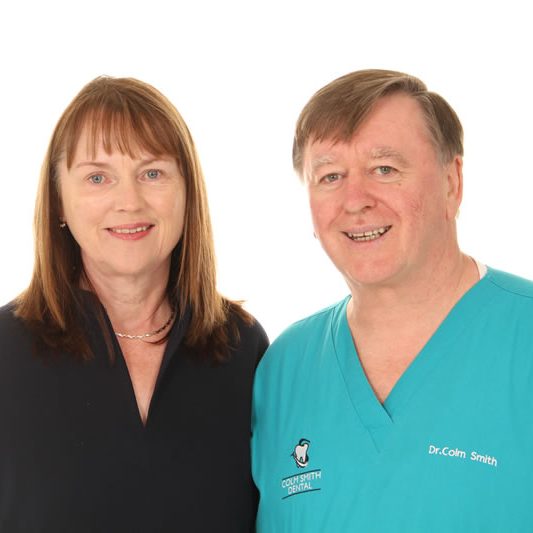 Your Dental Clinic
Find out why generations of families choose Colm Smith Dental
Every patient is treated like family, and that is what makes us different than other clinics. Each patient has a unique set of needs, therefore each patient needs to be treated differently.
You are more than a number for us here at Colm Smith Dental, and we promise to do our utmost to ensure you have a healthy smile and mouth, and you have a reason to smile leaving our clinic
Colm & Lucia Smith

If you are unsure what treatment you may need, please fill out the appointment form with as much information as possible and we will contact you as soon as we can.
We have Dental Clinics in Cootehill in Cavan and also in Monaghan centre.