What are veneers?
Dental veneers - Complete Smile Makeovers
A veneer is a very thin layer of porcelain, ceramic or composite made to fit over the front surface of a tooth, like a false fingernail fits over a nail. They are one of the most versatile restorations available for enhancing your smile and can be used to lighten discoloured teeth, 'straighten' teeth and to close spaces between front teeth.
Because veneers are very thin, very little preparation of the tooth is needed.
The first veneers fitted in Colm Smith Dental was back in 1988! The female patient had dark stained teeth as a result of taking antibiotics as a child. The result was so good, that it inspired the patient to study dentistry and she herself is now a very successful dentist.
Book an Appointment
Am I suitable for veneers?
Veneers may be suitable to correct the following cases:
Are there any risks involved with having veneers?
Common risks and complications
Trauma to other parts of the mouth including adjacent teeth, gums, cheeks, tongue etc.

Some teeth will still be sensitive for some time after the procedure.

Uncommon risks and complications
Removing tooth material to make space for the veneer can irritate the nerve inside the tooth sometimes leading to the nerve dying and causing toothache, meaning the nerve in the tooth may die and require root canal treatment. If this occurs it will require an additional cost.

Trauma to tissues underneath a tooth including bone, sinus, nerves supplying other teeth etc.

Allergic reaction to something used during the procedure.


Trauma or injury to the muscles or jaw joint which may require follow-up care, or referral to a dental specialist.
What is involved in having veneers?
Visit 1
Visit 1: Veneering teeth usually requires two visits to complete, with or without anaesthesia required. Pre-treatment photographs are taken. The teeth are prepared by lightly buffing and shaping the surface to allow for the thickness of the veneer. An impression of the teeth is taken and together with you dentist, you will choose the shade (colour) and characterisations to incorporate into your veneers. We may also place some temporary veneers over your prepared teeth while the laboratory constructs your final veneers.
Visit 2
Visit 2: This is usually about 2-3 weeks later. The teeth will be cleansed with special liquids to achieve a durable bond. Bonding cement is then placed between the tooth and veneer and a special light beam is used to harden and set the bond. Post-treatment photographs are taken. You will receive care instructions for looking after and maintaining your veneers. Appropriate brushing, flossing and regular dental visits will aid in the life span of your new veneers.
Our Reputation speaks for itself
We have generations of happy patients from all over Ireland, our aim is to provide affordable dental care which is of the best quality possible.
If you would like to read more of our reviews, you can do so on Google, Facebook, WhatClinic and many other locations. We pride ourselves on our excellent reputation and are looking forward to having you join our long list of happy patients.
How much do veneers cost?
Prices vary depending on the type material used to make the veneer. Please discuss this with your dentist. At Colm Smith Dental we provide our patients with the knowledge and expertise needed to get the best results. Our pricing is competitive, and our dentists are highly skilled. Please see our price list below or call one of our practices in Cootehill and Monaghan to find out more.
PRSI & Medical Card
PRSI Scale & Polish for 15 euro
PRSI- Please present your PPS number and with your signed consent, Colm Smith Dental can check your eligibility. If you are eligible, your check-up will be free and a regular scale and polish with the dentist or hygienist will be €15.
Medical Card Cover
Medical Card- if you hold a medical card, with your consent Colm Smith Dental can check your eligibility prior to your appointment. If you are eligible, you are entitled to a free examination, 2 fillings and all extractions per calendar year. Other treatments are available on the Medical card; however prior approval is required from the HSE.
Cosmetic Dental Treatments
"Highly recommend all dentists at the surgery, as a family of 5 we all attend kids ranging from 6 to 16 and all love to go and see all the friendly staff. Thank you for all the amazing work over the years."
"I had a wisdom tooth removed on Saturday under sedation with Dr Chris Bell. All I can say is he is absolutely fantastic. I never felt one single thing. I came home and could eat straight away no pain, recovering very quickly. Delighted thank you."
"had my first appointment today i`m not a big fan of dentists due to bad experiences in the past. the staff were all really friendly and put me at ease the moment i walked through the door. actually looking forward to my next appointment that`s something i never thought i`d say."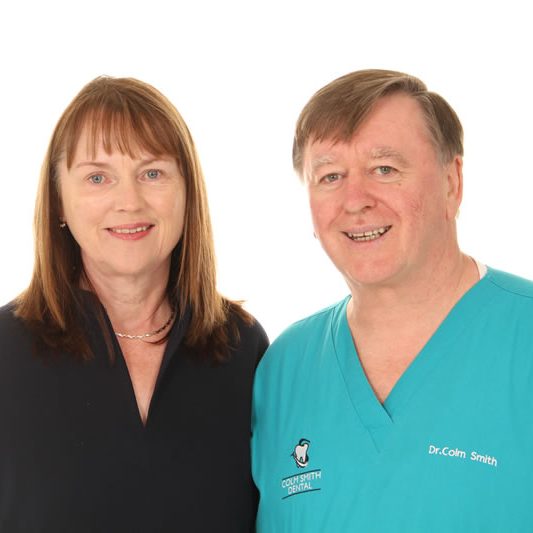 Your Dental Clinic
Find out why generations of families choose Colm Smith Dental
Every patient is treated like family, and that is what makes us different than other clinics. Each patient has a unique set of needs, therefore each patient needs to be treated differently.
You are more than a number for us here at Colm Smith Dental, and we promise to do our utmost to ensure you have a healthy smile and mouth, and you have a reason to smile leaving our clinic
Colm & Lucia Smith

If you are unsure what treatment you may need, please fill out the appointment form with as much information as possible and we will contact you as soon as we can.
We have Dental Clinics in Cootehill in Cavan and also in Monaghan centre.