Bleaching / Teeth whitening
The white smile you have always dreamed of
Tooth whitening is a dental procedure during which a peroxide solution is used to change the colour of the teeth. The intended benefits of the procedure include returning the teeth back to the shade they may have been in youth or sometimes even lighter.
Fillings and other dental restorations (veneers/crowns/bridges) will not whiten with this technique.
Book an Appointment
Am I suitable to have my teeth bleached?
Prior to having your teeth bleached, it is advised that you see one of our dentists for an assessment to ensure your teeth are suitable for bleaching.
External Tooth Bleaching
External-Your teeth can be safely whitened with bleaching trays at home in your own time. At Colm Smith Dental, we use the following brands- Nitewhite, Natural Elegance and Pola Day.
Internal
Internal- This is carried out on teeth which have become darker in colour due to trauma or root canal treatment. This can be unsightly, especially if it is a front tooth which is highly visible. These teeth can be bleached internally until the tooth returns to its original shade.
ICON tooth Bleaching
ICON- used to remove white spots on front teeth. These can be removed from the teeth using a specialised bleaching polish.
For further information on bleaching you can visit the British Dental Bleaching Society at this address: www.bdbs.co.uk
Are there any risks associated with bleaching my teeth?
1. Expected complications
Most people experience some increased sensitivity to cold stimuli while undergoing this process.
Your teeth will continue to naturally age and darken following this procedure meaning most people will chose to top up the result in the future. Tea, coffee and red wine will affect the shade of your teeth and the use of tobacco.
2. Common risks and complications
Gum and soft tissue irritation- Temporary inflammation of the gums and other soft tissues of the mouth can occur. This is generally a result of the whitening gel coming into contact with these tissues.
The extent to which your teeth will whiten cannot always be accurately predicted. The effect can be greater for some people than others.
Only tooth material will whiten so some fillings and crowns may look out of place afterwards meaning some people choose to then have those replaced.
Depending on the inorganic composition of teeth, you may experience uneven bleaching of the surface e.g. 'stripy' 'blotchy' appearance.
3. Rare risks and complications
Allergic reaction to something used during the procedure.
How much does Tooth Whitening cost?
Prices vary depending on the type of procedure and bleach used. Please discuss this with your dentist during your assessment.
At Colm Smith Dental we provide our patients with the knowledge and expertise needed to get the best results. Our pricing is competitive, and our dentists are highly skilled. Please see our price list below or call one of our practices in Cootehill and Monaghan to find out more.
PRSI & Medical Card
PRSI Scale & Polish for 15 euro
PRSI- Please present your PPS number and with your signed consent, Colm Smith Dental can check your eligibility. If you are eligible, your check-up will be free and a regular scale and polish with the dentist or hygienist will be €15.
Medical Card Cover
Medical Card- if you hold a medical card, with your consent Colm Smith Dental can check your eligibility prior to your appointment. If you are eligible, you are entitled to a free examination, 2 fillings and all extractions per calendar year. Other treatments are available on the Medical card; however prior approval is required from the HSE.
Cosmetic Dental Treatments
"Highly recommend all dentists at the surgery, as a family of 5 we all attend kids ranging from 6 to 16 and all love to go and see all the friendly staff. Thank you for all the amazing work over the years."
"I had a wisdom tooth removed on Saturday under sedation with Dr Chris Bell. All I can say is he is absolutely fantastic. I never felt one single thing. I came home and could eat straight away no pain, recovering very quickly. Delighted thank you."
"had my first appointment today i`m not a big fan of dentists due to bad experiences in the past. the staff were all really friendly and put me at ease the moment i walked through the door. actually looking forward to my next appointment that`s something i never thought i`d say."
Bright Smile
Get Noticed
Brighten up your smile with Tooth Whitening
Remove Stains
Stubborn stains need treatment to be removed
Whether it is coffee, Tea or other stains, we can help you get that white smile you always dreamed of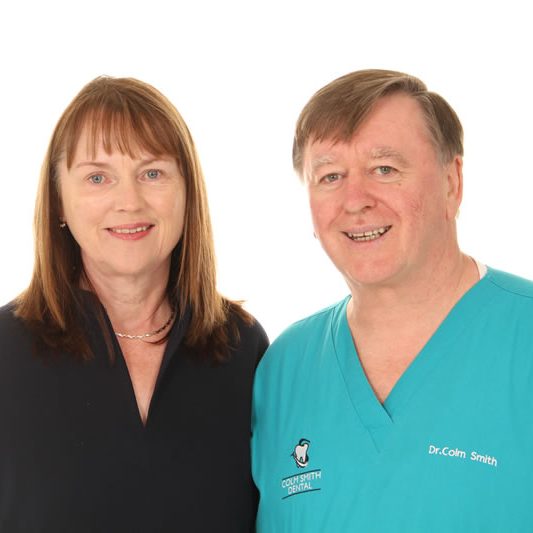 Your Dental Clinic
Find out why generations of families choose Colm Smith Dental
Every patient is treated like family, and that is what makes us different than other clinics. Each patient has a unique set of needs, therefore each patient needs to be treated differently.
You are more than a number for us here at Colm Smith Dental, and we promise to do our utmost to ensure you have a healthy smile and mouth, and you have a reason to smile leaving our clinic
Colm & Lucia Smith

If you are unsure what treatment you may need, please fill out the appointment form with as much information as possible and we will contact you as soon as we can.
We have Dental Clinics in Cootehill in Cavan and also in Monaghan centre.