Hygienist Treatments
Regular visits to your dental hygienist are vital for your oral health
We have a large number of hygienists at Colm Smith Dental. They are an integral part of the dental team.
They also play a very important role in maintaining oral hygiene in patients undergoing implant, orthodontic or crown and bridge treatment, where immaculate oral hygiene is essential, as well as in those patients that have a history of gum disease to prevent any relapse.
Book an Appointment
Hygienist Treatment Procedure
Why is it so important to have healthy gums?
It is important to take good care of your gums by brushing after meals and flossing daily to remove food particles between and around your teeth, and to prevent the formation of plaque on tooth surfaces.
If plaque is not removed, it can release toxins that irritate and inflame the gums, causing a condition called gingivitis- also known as gum disease. Bleeding gums is the initial sign of gum disease. If not treated, gingivitis can progress into periodontal disease, a low-grade infection of the gums that can slowly and painlessly destroy the gums and bones around your teeth.
Periodontal disease can lead to your teeth feeling loose, 'drifting' or 'moving' and eventually loss of teeth.
What treatment does the hygienist carry out?
Oral Hygiene Instruction- Demonstration and advice on a variety of techniques, with each patient until they understand the importance and develop good oral hygiene skills of their own as it is the patient's daily care that maintains good gums and dental health in the long term.
Scale and polish- This is a complete cleaning of the teeth. It includes cleaning below the gum line to remove plaque and tartar that can cause gum disease, cavities, bad breath and other problems. The teeth and gums may be numbed for this procedure to make it more comfortable.
Airflow Abrasion- A gentle way to remove staining from teeth, ideal before weddings and other big occasions.
Root surface debridement- The dentist will refer patients to the hygienist who require deep cleaning (root surface debridement) carried out with Local anaesthetic. This can be done through several appointments
How long will my hygienist appointment last?
Hygiene visits are typically 30 – 45 minute appointments depending on the patient's oral hygiene status. Your hygienist will advise you how often they need to see you.
How much will it cost?
At Colm Smith Dental we provide our patients with the knowledge and expertise needed to get the best results. Our pricing is competitive, and our dentists are highly skilled. Please see our price list below or call one of our practices in Cootehill and Monaghan to find out more.
Maintaining long lasting professional relationships with all our patients
The aim of a dental examination is to look for and detect any signs of disease or other problems, so that they can be treated as soon as possible to prevent any potential problems becoming more serious at a later stage.
How Often Should I see the Dentist?
Every patient's case is different, but the minimum time that should be left during visits is 6 months
It is very important to maintain regular check-ups with your dentist. It is usually recommended that you attend at least once a year. However, your dentist will advise you best as it is different for every patient.
You may also be advised to see the hygienist on a regular basis.

Contact Us Today
General Dental Treatments
PRSI & Medical Card
Is my check-up covered under PRSI
PRSI- Please present your PPS number and with your signed consent, Colm Smith Dental can check your eligibility. If you are eligible, your check-up will be free and a regular scale and polish with the dentist or hygienist will be €15.
Is my check-up covered with my Medical Card
Medical Card- if you hold a medical card, with your consent Colm Smith Dental can check your eligibility prior to your appointment. If you are eligible, you are entitled to a free examination, 2 fillings and all extractions per calendar year. Other treatments are available on the Medical card; however prior approval is required from the HSE.
"Highly recommend all dentists at the surgery, as a family of 5 we all attend kids ranging from 6 to 16 and all love to go and see all the friendly staff. Thank you for all the amazing work over the years."
"I had a wisdom tooth removed on Saturday under sedation with Dr Chris Bell. All I can say is he is absolutely fantastic. I never felt one single thing. I came home and could eat straight away no pain, recovering very quickly. Delighted thank you."
"had my first appointment today i`m not a big fan of dentists due to bad experiences in the past. the staff were all really friendly and put me at ease the moment i walked through the door. actually looking forward to my next appointment that`s something i never thought i`d say."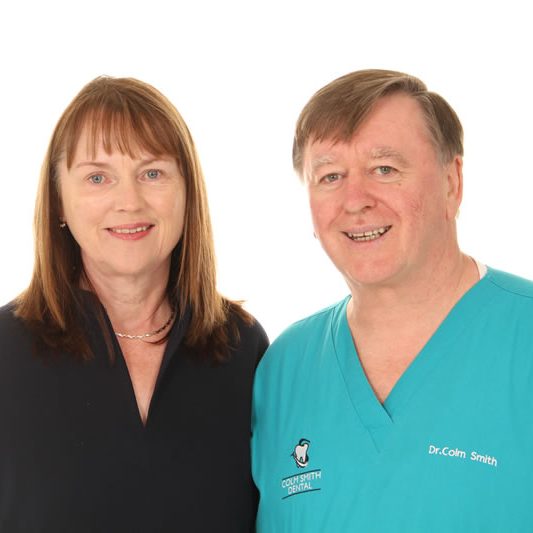 Your Dental Clinic
Find out why generations of families choose Colm Smith Dental
Every patient is treated like family, and that is what makes us different than other clinics. Each patient has a unique set of needs, therefore each patient needs to be treated differently.
You are more than a number for us here at Colm Smith Dental, and we promise to do our utmost to ensure you have a healthy smile and mouth, and you have a reason to smile leaving our clinic
Colm & Lucia Smith

If you are unsure what treatment you may need, please fill out the appointment form with as much information as possible and we will contact you as soon as we can.
We have Dental Clinics in Cootehill in Cavan and also in Monaghan centre.